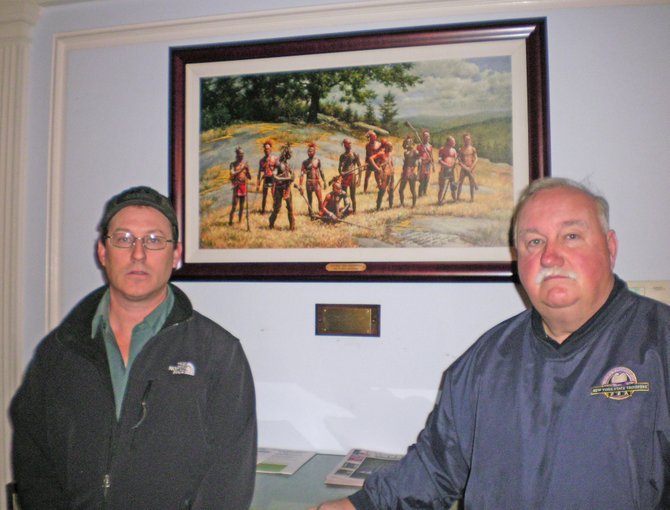 continued — During the past two decades Blanchette and Dolbeck have found many items with historical significance. They would like to someday create a museum in downtown Ticonderoga to display the artifacts.
The history enthusiasts have also been active on several other fronts. They were leaders in the recreation of Lord Howe's death in Ticonderoga a decade ago and routinely bring history programs to area schools and historical societies.
Earlier this year Blanchette and his son Zachary appeared on "Buried Treasure" on the FOX television network.
"Buried Treasure" is an unscripted series in which identical twin brothers Leigh and Leslie Keno travel across the country to help ordinary people discover the unknown treasures in their homes. The Keno brothers, stars of "Antiques Roadshow," are modern-day treasure hunters, antique experts and appraisers who have helped people all over the world sell more than $1 billion worth of collectibles. The local men were asked to find missing treasure on a farm in Windham, in the Catskill region.
This is the second community donation by Whites Electronics to the community arranged by Dolbeck and Blanchette. Last summer the firm donated $600 to the Ticonderoga Daughters of the American Revolution chapter to fund a study of a possible downtown 18th Century museum.
"Whites Electronics is a very conscientiously responsible company with respect to encouraging the metal detecting hobby to preserve, document and interpret the history in the ground to the American public," Dolbeck said.
Vote on this Story by clicking on the Icon