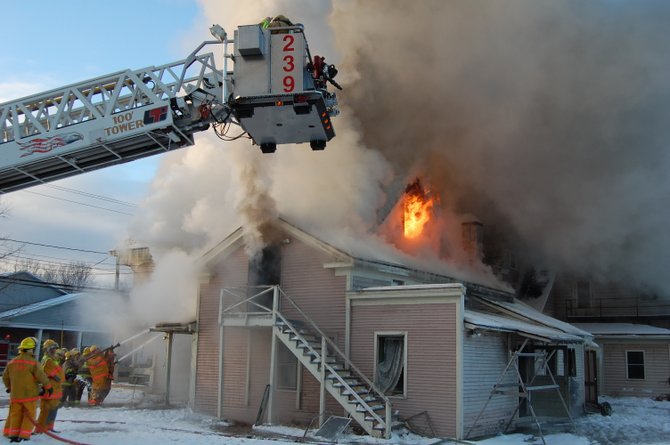 Elizabethtown — The owners of the former Hubbard Hall property are seeking community input on what to do with the site.
Sheri Amsel and Richard Prime are looking to rebuild on the site where the historic building once stood before being leveled by a Jan. 11, 2011 fire.
"We are trying to decide what kind of a building we are going to put there, and we want to hear from the business owners what kind of building they would be looking for," Amsel said.
Amsel said that, when people heard that the property had been purchased, they came up to her and asked if they were going to be bringing a new business into town. However, Amsel said that the goal is to provide a new space for an existing business.
"We are not developing any business with this project," Amsel said. "We want to build a really great building that would house businesses."
To help the process, Amsel and Prime sent out a survey to local business owners, along with a letter of intent for those who may want to set up their shops at the new site.
"If people want to commit now, then we can build the building around their needs," Amsel said. "My husband has been in the building business for years, and he wants to build a really gorgeous building for the town."
Amsel said that the building would also involve green technology.
"It will a building that completely gets its electricity from the sun," Amsel said.
Amsel said that they sent an email out to business owners in Elizabethtown about two weeks ago and that, so far, response has been slow in coming.
"We are doing market research in preparation for the development of a new office building to replace Hubbard Hall on Main Street in Elizabethtown," Amsel said in the email. "The new building we are planning will have high speed, wireless internet and be LEED-certified (use green energy for heating, cooling and electricity and possibly have a green roof and rain garden for storm water drainage)."
(Continued on Next Page)
Prev Next
Vote on this Story by clicking on the Icon