Document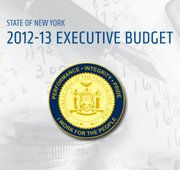 ALBANY — Governor Andrew M. Cuomo today unveiled his 2012-13 Executive Budget and Reform Plan, which expands on the historic reforms enacted last year to continue building a New New York. As a result of the tough decisions and bipartisan cooperation of the past year, the State is able to close the current deficit without broad cuts, new taxes, fees or gimmicks. In addition, the Governor's Executive Budget proposes major reforms to reduce the cost of government for taxpayers, implements accountability in our schools to put students first, and puts the State in a position to leverage billions of dollars in private sector investment to grow the economy and create jobs.
"Because of the tough choices and the historic reforms we achieved last year, we are able to propose a pro-growth budget, tackle broad fiscal reform, drive accountability in our schools to put students first, and leverage tens of billions of dollars of new investment to create jobs without significant cost to the taxpayer," Governor Cuomo said. "Through fiscal discipline and working in partnership with the private sector, we are making New York a pro-growth State once again. This budget represents the next step in our plan to transform New York State."
The Governor's Executive Budget closes the current $2 billion budget deficit with no new taxes or new fees. It also proposes sweeping mandate relief and pension reform that will save taxpayers and local governments billions of dollars and launches historic education reform to put students ahead of the education bureaucracy. The Executive Budget also lays the groundwork for an innovative $25 billion economic development agenda, funded largely by leveraging billions in private sector investment rather than by taxpayer dollars.
The State operating budget increases by less than 2 percent while honoring the two-year commitment made in 2011-12 to increase School Aid and Medicaid funding at approximately 4%.
(Continued on Next Page)
Prev Next
Vote on this Story by clicking on the Icon