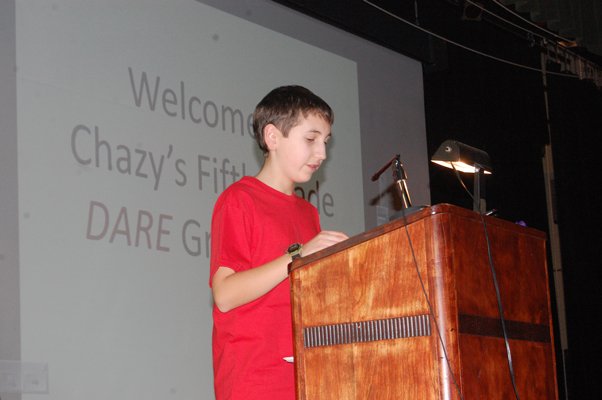 Chazy — The DARE pogram was not offered when Clinton County Sheriff's Department Deputy Jamie Head was in school.
"Anything I found out about drugs and alcohol I learned on the bus," he said. "There was a lot of misinformation out there."
That is one of the reasons Head supports the DARE program and was thrilled recently to graduate fifth graders from Chazy Central Rural School from the course.
Drug Abuse Reinforcement Education, better known as DARE, is an international program that seeks to prevent the use of controlled drugs, gang membership and violent behavior. It has expanded globally since its founding in California in 1983, and students who enter the program sign a pledge not to use drugs or engage in violent behavior.
They are taught by law enforcement about the dangers of drug abuse in an interactive in-school curriculum that lasts 13 weeks.
"We go to area schools and teach about the dangers of drug abuse and resisting violence," Head said.
The program brings a comprehensive message to students about tobacco, alcohol, marijuana and violence.
The focus of late has been prescription and over-the-counter medications.
"The number one abuser is pills," Head said. "It is the number one drug in schools. That is the trend."
His message to students is to use common sense and choose their friends well.
Statistically speaking, Head said, everyone who goes through middle/high school will be offered drugs at least once.
Head conducts role playing with students to prepare them for that encounter.
"I love coming to this school."
And the school appreciates him as well.
"I think it is great for the students to have a positive relationship with law enforcement," said Principal Thomas Tregan. "I appreciate that the Sheriff's department sees this as an important program to continue."
Students are provided the opportunity to discuss things they would not normally talk about, specifically, the pitfalls of alcohol and drug abuse.
(Continued on Next Page)
Prev Next
Vote on this Story by clicking on the Icon