Willsboro — The Willsboro-Reber Volunteer Fire Department is on scene of a fully involved structure fire in the heart of the hamlet.
Photo Gallery
Willsboro apartment fire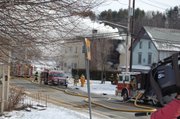 Pictures from the Jan. 16 fire at a Willsboro apartment complex.
Firefighters were dispatched to the scene of the fire around 9:40 a.m. to an apartment building on Lake Street. The Keeseville Fire Department was called to Willsboro for the use of their aerial truck and manpower.
Essex, Au Sable Forks, Wadhams, Whallonsburg, and Westport are also on scene at the blaze, which was reported by Cory Gearhart, who was leaving the Adirondack Hardware store when he noticed black smoke coming from the complex.
An interior attack was started by firefighters on the blaze, but they were called out of the building at around 11:30 a.m. for safety reasons.
"It's safe to say that the building is a total loss," Willsboro-Reber Chief John Cross said, adding that he could not confirm a potential cause of the fire.
"We are still not positive about the cause," Cross said. "I cannot confirm if it was due to the landlord trying to unthaw frozen pipes. We can only say that the fire started in the basement."
"I saw black smoke and ran into the hardware store and told them to call 911," Gearhart said. "I ran over to the house and noticed someone leaving, so I went to help."
Gearhart also helped to assist another resident out of the building.
Colleen Blanchard, a resident of the apartments, said that she was getting ready to leave for work when she noticed smoke.
"I smelled and saw smoke and heard the fire detectors going off," Blanchard said. "Smoke was coming up the pipes through the radiator. I went downstairs and out, around the outside to the basement doors and tried to put the flames out with a fire extinguisher."
When that effort failed, Blanchard then turned her attention to getting fellow residents out of the building.
(Continued on Next Page)
Prev Next
Vote on this Story by clicking on the Icon