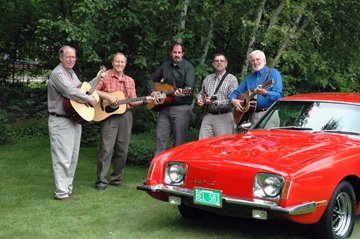 There's a chance to discuss the future of the Adirondack economy, catch a local band, and sing along to a classic musical this weekend.
Friday, Jan. 13
The Lake Placid Center for the Arts Winter Film Series begins on Friday, Jan. 13 at 7:30 p.m. with "Grease Sing-A-Long." Tickets are $6, no reservations.
LPCS also invites the public to an opening reception for Social FaceWorking a new exhibit to open in the Fine Arts Gallery on Friday, Jan. 13, from 5 to 7 p.m.
Artist Nip Rogers, an accomplished illustrator, brings together 19 locally recognized artists into a second of its kind art show. The Exhibiting Artists are: Andrew Dehond, William Evans, Brooke Noble, Cal Rice, Carol Vossler, Charles Stewart, CJ Dates, David Fadden, Eric Ackerson, Jenny Curtis, John Ward, Ken Wiley, Peter Seward, Sandy Edgerton Bissell, Sara Mazder, Shaun Ondack, Susan Stanistreet, Vicki Celeste
The Exhibit will be on display through February 11. For more information call 523-2512 or visit online www.LakePlacidArts.org. Admission is free.
Saturday, Jan. 14
The deep economic recession, cutbacks in government funding, impact of the Irene floods and other natural events show the intersection and inter-dependence of people, nature, communities and climate in the Adirondacks.
These issues and the lessons to be learned for the future will be discussed at a special forum at the Whallonsburg Grange Hall, 1610 NYS Rt. 22 at Whallons Bay Road, on Saturday, Jan. 14, at 3 p.m.
The speakers at the event, Brian Mann and Curt Stager, have been researching, writing on and speaking about important issues in the region for many years. Mann's articles and commentaries on the future of the Adirondack Park and its communities have sparked discussions and debates. Stager's research on the ecological and human impact of climate change in the North Country poses the challenge of potential large-scale shifts in the natural world. Their presentations will be followed by audience discussion.
(Continued on Next Page)
Prev Next
Vote on this Story by clicking on the Icon