Port Henry — Visitors to Port Henry will soon be greeted by a sign honoring the community's most famous resident.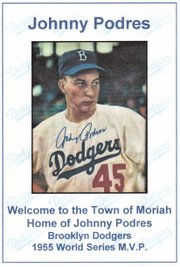 A 4 x 8 feet sign will be erected on Route (n/22 south of the village in memory of Johnny Podres, the 1955 World Series Most Valuable Player and native son.
"Everyone from the town of Moriah should be proud and honored to know that our goal has been reached for the placement of the Johnny Podres sign," said Pat Salerno Jr., who has led the campaign to honor Podres. "Mr. Willie Grant has started on the Johnny Podres sign which will be installed on the south side of Port Henry in the spring of 2012.
"The Podres family — Joan, Joey, John Jr. and Johnny Sr.'s brother Tom would like to thank everybody," Salerno said.
Podres, who died in 2008, grew up on Lamos Place in Witherbee. He graduated from Mineville High School in 1950 before joining the Brooklyn Dodgers. After a long career as a pitcher and later as a pitching coach, Podres retired to Queensbury.
A community campaign raised $2,000 for the sign. Salerno got the project started by selling his own collection of baseball cards during last summer's inaugural Johnny Podres Day. A dinner, gift basket party and raffle at Boni's Bistro in Port Henry also raised money.
The sign will feature a large photo of Podres taken in 1955 wearing his Dodger uniform. It will be similar to a baseball card.
Joining Salerno in contributing to the sign project were Boni Salerno of Boni's Bistro and Pub, her staff, Delores (Lootz) Burhart, Carol Genier, Helen Sprague, Lucielle Sprague, Joann Wood, George's Restaurant, Joann Podres, Lisa Sprague, Francis Maloney, Celotti's Wines & Spirits, Linda Fleming, Glens Falls National Bank and Trust, Gene's Michigan Stand, Mr. Sarlin (Rich) Napier, Mr. James Brooks, Mr. John Sharkey, Mr. and Mrs. Francis Breed, Mr. Michael J. and Allison I. Sharrow, Salerno Brothers, Mrs. Joan Harland, Mr. John Sweet, Mr. and Mrs. Jack Harris, Claudia Young, Avis S. Kedmenec, Becky Gilbo, Moriah Supervisor Tom Scozzafava, Mr. Phil Tucker, Frances L. Driscoll, Daniel C. Lee and Christine Paquette-Lee, Frances L. Driscoll and Timothy J. Glebus.
(Continued on Next Page)
Prev Next
Vote on this Story by clicking on the Icon