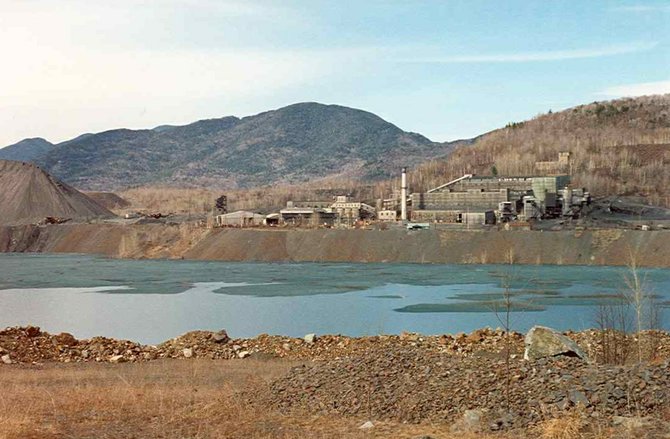 continued — "Rail is coming back," said Douglas. "Rail is green. Rail is efficient. Rail is a major attraction for tourism as the people in North Creek have seen."
His office firmly believes that without transportation, economic development efforts will fall flat. That's been central to their efforts at the Plattsburgh International Airport.
"If you look through human history, zones of prosperity rise and fall in alignment with shifts in movement," said Douglas.
The rail line to Tahawus has sat unused for two decades, but it's been preserved and was even held by the Essex County Industrial Development Agency to shelter NL Industries from tax costs that could have made owning the rail rights a burden. Opportunity now exists because the rail wasn't torn apart, said Douglas.
Protests from Protect! have hindered Saratoga-North Creek Railway's efforts to establish a freight line heading to Newcomb and hopefully encompass customers beyond NL Industries Tahawus site. Their primary business there now is shipping 30,000 tons of screened rock and 3,000 tons of magnetite from the site, currently by truck.
As gas prices rise, said Douglas, it's important for local freight to be insulated from those costs. The more efficient rail engines are an important answer, especially in the transportation-deficient Adirondack Park.
"There's no place that's less blessed in transportation than the Adirondacks, that makes what they do have even more valuable," said Douglas.
"Saying it shouldn't be used is simply bizarre," he said. "Maybe we'll eradicate just a little bit of the poverty that too many interests always saying no seem to forget about."
In addition to Protects! concerns, the state's Department of Environmental Conservation's Robert Davies, director of the department's Division of Lands and Forests expressed concern over legal issues to the regulatory board. A DEC spokesperson said the organization has no official stance, and did not cite any specific legal issues, saying they're under review.
In addition to getting the Essex County Board of Supervisors to submit another letter, Canon's hoping to convince the Adirondack Association of Towns and Villages, the Intercounty Legislative Committee and the Adirondack Park Local Government review board to join in support of the rail.
Vote on this Story by clicking on the Icon