continued — • "You were the reason I survived school..."
• "You treated us with respect and never made us feel stupid. You knew exactly how to help us with any problem we faced..."
• "You were the most genuine, strong and kind-hearted person I've ever known — You brightened the worst of people's days and saw the good in everybody..."
• "You inspired me to be an architect..."
• "You taught me that no matter where I go, I will be walking into my future..."
Bertrand spent 28 years with the school.
From 1986 to 2003, he served as Junior Varsity Softball coach. He also served three years as Varsity Softball coach, most recently in 2011.
His coaching tenure included coaching squads in the 1990s that went on in subsequent years to the state championship finals three times in the 1990s.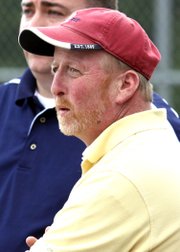 Here is Bertrand's obituary:
WARRENSBURG — Brent J. Bertrand passed away the morning of Jan. 10. A Hudson Falls native born on February 5, 1958, Brent graduated from Hudson Falls High School in 1976. He earned an Associate's degree from Cobleskill College in 1978 and a Bachelor's degree from the State University of New York at Oswego in 1982 before embarking on a very rewarding teaching career with the Warrensburg Central School District. He earned his Master's degree in 1988 from the State University of New York at Albany.
As a high school Technology teacher, Brent shared his passion as a craftsman with countless students during his many years in Warrensburg. In teaching his students to shape rough lumber into polished furniture, he instilled in the students and those around him the patience and discipline of doing things the right way and of taking pride in one's accomplishments. His "measure twice, cut once" philosophy was his simple way of expressing the valuable life lesson of thinking before acting.
Vote on this Story by clicking on the Icon