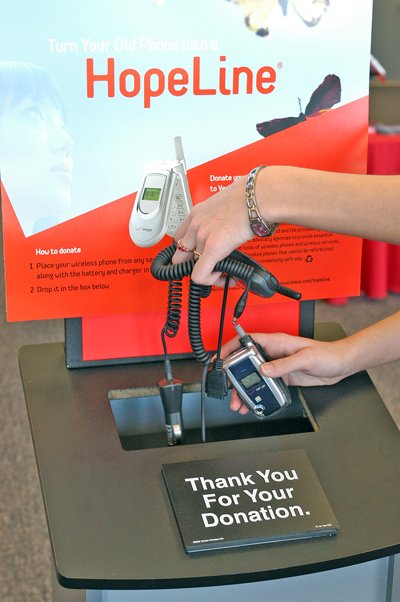 Port Henry — The Ticonderoga Federal Credit Union will host their its annual cell phone drive January and February.
Cell phones donated at TFCU branches will be given to the STOP Domestic Violence Center in Essex County where they will be turned into emergency 911 phones for domestic violence survivors.
More than 200 phones have been collected through TFCU's previous drives.
"We're honored to support this important cause in our community," said Shawn Hayes, TFCU president and CEO. "By donating your old cell phone in this way you're not only recycling, you may also be providing a vital lifeline to someone in need."
To participate, people can bring old cell phones, chargers and accessories in any condition from any provider and drop them in the collection bins at any of the credit union's three branch locations — Ticonderoga, Port Henry and Elizabethtown — during regular business hours.
Donations of toiletry items including shampoo, conditioner, body wash, as well as women's clothing and blankets will also be accepted.
Before donating people should be certain they have terminated their service contract, erased all data on the phone including contacts, texts, photos and removed the SIM card (if it has one). Tips for deleting a cell phone's data can be found at the credit union's website, www.tfcunow.com in the FAQ section. People may also refer to their user's manual or contact their service provider or phone manufacturer for data removal instructions.

The staff at the STOP Domestic Violence Center will take steps to remove data from the phones prior to redistribution, however, people doing it themselves will help expedite the process and ensure that the phone's data has been cleared. Any superfluous phones the center cannot use will be recycled, with the proceeds from recycling also benefiting the center.
Established in 1954, Ticonderoga Federal Credit Union has been serving the banking needs of its members for 57 years. It currently operates through conveniently located offices on Route 9N in Ticonderoga, Meacham Street in Port Henry and Court Street in Elizabethtown, NY and can be found online at www.tfcunow.com.
Vote on this Story by clicking on the Icon