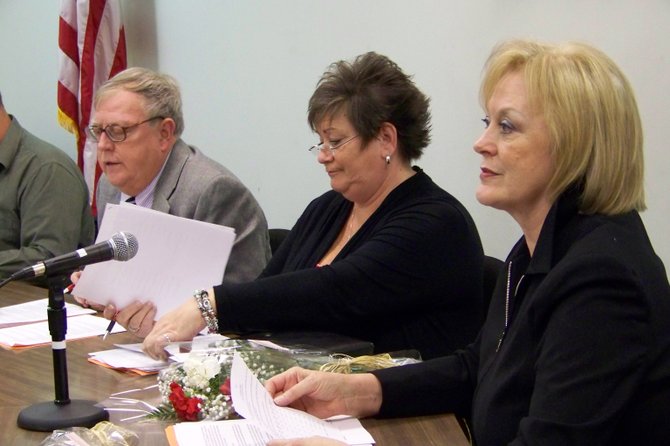 continued — He observed that the town's roadways were hard hit with the Memorial Day weekend storms, causing hundreds of thousands of dollars worth of damage — much of it restored through the work of local and county employees.
As for the future, Geraghty said state and federal grant funds would likely become more scarce.
Citing the state's denial of a grant application to fund restoration of the Floyd Bennett Memorial Bandstand, Geraghty said the town would have to rely more on its own resources.
"We're not going to be waiting for government handouts," he said. "We're going to go out and get things done on our own."
Also, he noted that the town's commercial scene seems to be on the upswing, with new businesses locating downtown during 2011: New Way Lunch, Rebecca's Florists, the Smoke Shop, the Cutting Edge, and Sarah Morgan's Grind-N-Gears and Groom Hair Salon — as well as the relocation of Heidi's Clip Joint.
"These are just a few of the businesses that have put their trust in Warrensburg," he said.
Geraghty said that he had solid faith that the commercial development would continue, citing plans for new retail development recently presented to town officials.
Warrensburg town government would be actively seeking to locate businesses here and create jobs, he said, primarily through a new economic development council headed by Marcella, who has expertise and experience in the field, he said.
"We're going to go out and seek businesses to locate in our community and fill up our empty storefronts," he said as he invited the public to join the council — only if they have a positive approach. "If you have a negative attitude, don't bother to apply."
Geraghty said the town has a bright future, because it has weathered the recession well, and commerce is gaining steam.
"I'm bullish on what's going to happen," he said. "And we'll be tapping everyone's expertise to move things forward."
Vote on this Story by clicking on the Icon