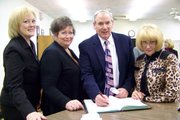 WARRENSBURG — Despite escalating costs and expensive mandates, Warrensburg town government kept taxes flat for 2012 — yet has made considerable progress, town Supervisor Kevin Geraghty said in the annual State of the Town speech he delivered recently.
And the credit for the town's accomplishments goes to the town employees for taking on additional duties as well as increasing efficiency during tough economic times, Geraghty said.
"Our workforce is at the lowest levels it has been in recent years, but our employees have responded by performing at the highest levels," he said.
As an example of their work, he noted that town employees constructed a new pole barn on the Water District property off Library Avenue, saving tens of thousands of dollars in taxpayer money.
"With the help of our town employees, we'll continue to make it through these tough economic times and steer Warrensburg into the future," he said.
Geraghty also praised the work of three town employees who retired in 2011: Richard Galusha, john Higgins and Walter Haws, plus he welcomed Tracy Benoit and chip Webster to the work force.
Geraghty's remarks were delivered during the town's annual reorganizational meeting, which featured a swear-in ceremony for two incoming town board members, Linda Marcella and Joyce Reed. They were administered the oath of office by town Justice Mindy Fisk.
Among the accomplishments Geraghty noted was the continuing work on improving the town's water quality. All recent test samplings but one — for dissolved copper contamination — were below state limits, and similar test results were encountered in lead sampling, he said. Progress continues to be made in installing commercial water meters, he added.
Local infrastructure achievements include sidewalk replacement, new sewer lines along Library Avenue and Thomson St. and installation of effluent disinfection apparatus at the town sewer plant.
Geraghty noted that the town Highway employees rebuilt Alden Avenue this year.
(Continued on Next Page)
Prev Next
Vote on this Story by clicking on the Icon