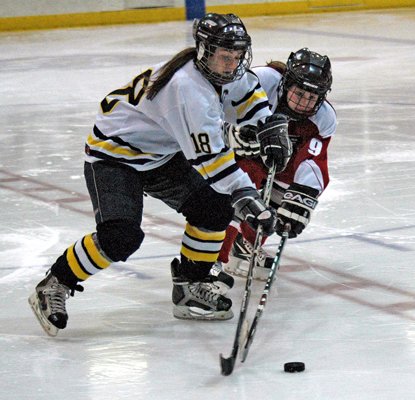 Boys Hockey
Beekmantown 5, Lake Placid 2
R.J. Reid and Keegan Barney scored goals for the Blue Bombers, while Jeffrey Smith made 18 saves. Ryan Meyer tallied an assist.
Girls Basketball
Beekmantown 45, Lake Placid 22
Danielle Balestrini scored 10 points for the Lady Blue Bombers, while Haley Brandes and Kelsey Taylor scored 4, Chloe Uebrick scored 2, Hannah Potter 1 and Sarah Kaltenbach 1.
Keene Beavers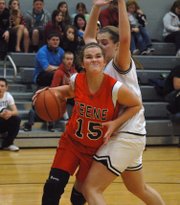 Girls Basketball
Crown Point 40, Keene 18
Sadie Holbrook scored 7 points, while Olivia Jaques and Hannah McCabe scored 3, Patricia Auer and Tucker Geiger 2, and Anna Kowanko 1.
Chazy 42, Keene 23
Tucker Geiger scored 12 points for Keene, while Olivia Jaques scored 7, Emma Gothner 2 and Anna Kowanko 2.
AuSable Valley Patriots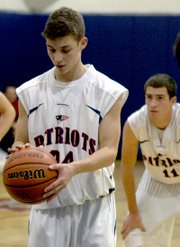 Boys Basketball
AVCS 59, Saranac 43
Brody Douglass scored 29 points to lead the Patriots past the Chiefs, while Shane Douglas scored 11, John Hickey 8, Connor Manning 5, Nick Rhino 4 and Austin Depo 2.
AVCS 60, Seton Catholic 43
Brody Douglass and Connor Manning each scored 15 points in their win against the Knights. Nick Rhino added 10, Austin Depo 9, Shane Douglas 6, John Hickey 3 and Nate Casey 2.
Boys Swimming
AVCS 53, Malone 40
Hank McCormick scored wins in the 100 butterfly and 50 free, while Ricky Baer won in the 200 free and 100 free for the Patriots. Ben Ford, Dillon Drolette, Keirin Kilburn and Gavin Frederick also scored wins, while the team won in the 200 and 400 free relays.
Patriots split
Hank McCormick scored wins in the 100 butterfly and 100 breaststroke as the Patriots beat Franklin Academy but lost to PHS.
Bowling
Ti 6-4, AVCS 4-0
Mike McDonald rolled a 554 series and Josh Taylor a 502 series for the Patriot boys, while Kaitlyn Sousis had a 406 series for the girls.
Vote on this Story by clicking on the Icon