Elizabethtown-Lewis Lions
Boys Basketball
Schroon Lake 57, ELCS 52
Hunter Mowery scored 22 points to lead the Lions, while Charlie huttig scored 11, Tyler White 6, Andy Mitchell 4, Zach Pelletier 3 and Tim LaRock 2.
ELCS 62, Minerva/Newcomb 25
Hunter Mowery scored 20 points in the Lions win, with Justin LaPier adding 12, Andy Mitchell 10, Zac Noka-Bailey 5, Tyler White 5, Charlie Huttig 4, Zach Pelletier 4 and EZ Diemand 2.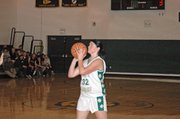 Girls Basketball
ELCS 32, Schroon Lake 23
Lily Whalen scored 16 points to led the Lady Lions to victory, while Shonna Brooks scored 6, Jasmine Barnes 4, Clare Harwood 2, Savanah Graves 2 and Kearsten Ashline 2.
ELCS 58, Minerva/Newcomb 36
Lily Whalen scored 15 points, while Clare Harwood scored 10, Shonna Brooks 9, Savanah Graves 6, Kylee Cassavaugh 4, Jasmin Barnes 2 and Jenn McGinn 2.
Lake Placid Blue Bombers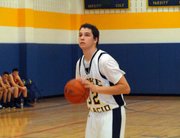 Boys Basketball
Lake Placid 52, Westport 21
Logan Stephenson scored 18 points and Jacob Daniels added 17 as the Blue Bombers defeated the Eagles. Jacob Burns added 6 and Cody Porter 4. Evan Bickford, J.P. Morrison and Dave Lawrence each scored 2.
Lake Placid 49, Wells 41
Lake Placid forwards Jacob Daniels and Evan Bickford combined for 23 points and controlled the backboards just enough to power the Blue Bombers to a hard-fought 49-41 win over Wells on Jan. 6.
The Bombers' aggressive defense throughout the game was a mixed blessing: Lake Placid pressed effectively, but also went over the team foul limit early in the fourth quarter, had two starters foul out, and gave Wells 17 shots from the charity stripe in the final stanza. The Indians were able to connect on just seven of those attempts, however, allowing Lake Placid to hold on for the win.
The Indians' Jake Earley led all scorers with 18 points in the game, including eight from the foul line. Logan Stephenson tallied 11 for the Bombers.

(Continued on Next Page)
Prev Next
Vote on this Story by clicking on the Icon