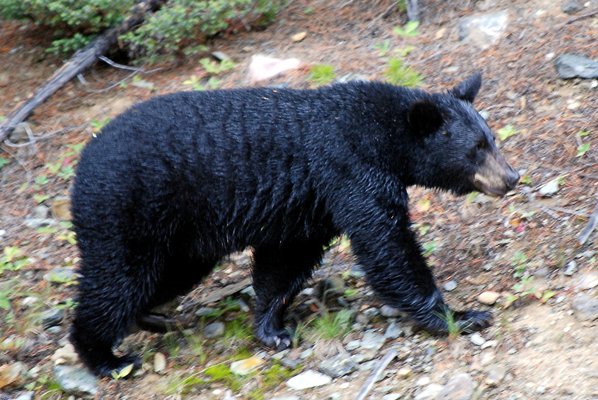 Over the years, I've listened to numerous deer hunters explain their lack of success, with excuses such as, "my sights were off" or "the brush was too thick" or "the sun was in my eyes."
Throughout my non-illustrious, hunting career, I've uttered many of the same excuses. However, whenever I've failed to fill my tag, which is more often than not, I've jokingly attributed it to my fondness for "track soup."
For those unfamiliar with this popular Northwood's delicacy, "track soup" is a wild mixture that combines equal portions of forest frustration, bad backwoods luck, and poor marksmanship, mixed in with generous helpings of fresh deer tracks, a few shortened shirt-tails, and just a smidge of whiskey, to add character.
An appropriate supply of deer tracks can often be found on the nearest runway, where whitetail flags are usually observed disappearing into the distance. Running tracks are fine, however I prefer "walking tracks," as they are usually more condensed.
I've also discovered the tastiest soup is made from fresh deer tracks, left in deep snow. Snowbound tracks provide a far better stock, than tracks found in mud or leaves, which often impart woody flavor and a rather gritty consistency to my soup.

Although I joke about fictitious "track soup," in reality, bear paw soup is no laughing matter. Bear paw soup, which is a traditional Sichuan delicacy, is actually available in China, Vietnam, Cambodia, Taiwan, Japan, and Korea. It may even be available, upon request, in some of North America's most upscale, Chinese restaurants, where a single portion can cost upward of $1,000, or more.
As the name implies, the soup's main ingredient is a freshly harvested bear paw, complete with claws, fur, pads and all. Reportedly, this strange entrée features just the front paws, which are not as tough as the hind paws. Ideally, a left front paw is the prime choice of true connoisseurs. It is considered the most tender, since bears lick it the most.
Joe Hackett is a guide and sportsman residing in Ray Brook. Contact him at brookside18@adelphia.net.
(Continued on Next Page)
Prev Next
Vote on this Story by clicking on the Icon