Joe Gonyeau rose to the occasion — literally — for the Ticonderoga basketball team Jan. 4.
Gonyeau leaped to block a last-second shot and preserve Ti's 38-37 victory over archrival
Photo Gallery
Ticonderoga v.s. Moriah boys basketball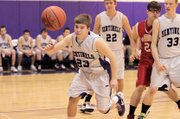 Ticonderoga won against Moriah with a final score 38-37
Moriah in Champlain Valley Athletic Conference boys action.
It was a fitting end to a tense, see-saw battle. The teams traded leads throughout the contest.
Nate Lenhart led Ticonderoga with 13 points, eight rebounds, five assists and six steals.
Michael Graney added 12 points, all on three-pointers. Gonyeau contributed 10 rebounds along with his game-saving rejection.
Landon Cross toped Moriah with 11 points.
Jim Curran and Tim Breeyear each added nine points for the Vikings.
Vote on this Story by clicking on the Icon