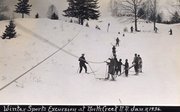 continued — The snow trains were wildly popular for nine winters. The winter sports clubs carried on with trail development and rope tow installations and looked forward to the future installation of a T-Bar lift.
What no one anticipated was the war. When it took hold and took men with it, there was no one left to groom the trails and few skiers were left to ride the trains or the trails. Furthermore, the train operators focused on transporting troops and goods for the war effort.
The snow trains were re-established in the late 1940s and early 1950s, but were welcomed with little success. The popularity of the private automobile made getting to the mountain a quicker trip. Ski buses were attempted but were not nearly as successful as those snow train rides.
But the trails at Gore Mountain continued to develop. In 1964 the Adirondack Mountain Authority, a state-run department, began overseeing the operations of the mountain. At the expense of the state, new chair lifts were installed and later, in 1967, the red gondola lift — the first gondola in the state.
In anticipation of the 30th anniversary of the snow train, North Creek residents established a celebratory ride called "Snow Trains Unlimited" in 1974. Unfortunately, it was canceled for lack of snow on the mountain. While that was disheartening to ski train enthusiasts, it did bolster the state's efforts to install artificial snow-making guns on the mountain, especially since a few seasons were cut short completely due to the lack of snow in the mid and late 1970s.
The Olympic Regional Development Authority took control of Gore Mountain in 1984. Under this management, the mountain continues to establish new trails and better the existing ones. In 2010, work was completed on the triple chair lift connecting the small village mountain, also known as Ski Bowl, to Gore Mountain. The Ski Bowl slopes were home to some of those first rope tows installed in the 1930s.
Now in 2012, the Saratoga-North Creek Railway will attempt to regain the popularity of snow trains not seen in over 70 years.
Gore Mountain still presents the best in skiing, and North Creek still offers small town hospitality; all with a comforting jingle left in your pocket.
Vote on this Story by clicking on the Icon