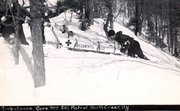 continued — On arriving to the North Creek station, winter sports enthusiasts found local men waiting with buses, trucks, and cars to drive them to the mountain for 25 cents a person. The phrase "Ride Up Slide Down" became a popular one associated with this area since a skier could be transported from the station by a vehicle to the base of the mountain. From there, the skier could pay another quarter for several tickets to ride a rope tow and then slide back down. In 1936, it was estimated that 25,000 skiers visited the slopes, spending about $50,000.
This influx of people and cash were a small boon to the community. Residents were able to make some extra income by feeding and boarding skiers for $3 a day. Of course, this was at that discomfort of the boarding family's children who were cast out of their own beds and made to sleep in the cellar to accommodate these strangers.
A nurse developed an on-slope first-aid patrol and members wore a distinctive armband and carried a backpack with emergency supplies. Emergency sleds and a telephone box were installed on the slopes. This practice was a forerunner of the National Ski Patrol now known at every public ski mountain.
Comments in the press were encouraging. One particular piece from the North Creek News Enterprise, entitled "What a New Yorker thinks of North Creek" reads:
"Above all, he [the skier] is struck with the fact that the extremely popular North Creek hasn't the aspect of distinct commercialism that he had expected. He notices that the people who have opened up their houses to skiers like himself really seem to enjoy having them around, and last, but not least, is the fact that everything is quite within his budget.
Reluctantly climbing back on the train Sunday afternoon, after practically mastering the sport [of skiing], he is possessed of two things. One is a reservation for next week-end. The other is the mounting love for this little town nestled in the side of the mountain, presenting the best in skiing, the best in companionship — and he still has a comforting jingle in his pocket which attests to the fact that he can come here without having to break the bank at Monte Carlo!"
Vote on this Story by clicking on the Icon