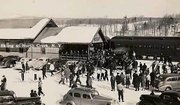 North Creek — A once-familiar sight may soon return to the North Creek train station: a train arriving in deep snow with hundreds of eager skiers on board.
The snow train is not a new concept to North Creek. The development of the mountain terrain surrounding North Creek 80 years ago was a natural one, as the logging roads up the steep terrain were already in place. In 1932, with Lake Placid hosting the Olympics, the local American Legion began widening those roads for ski use.
The Home Town News North Creek Enterprise reported on the four-mile-long ski trail from the top of Gore Mountain, "An unusual feature of the Legion's ski trail is that flaming youth and his older brother can make use of the slide without making the difficult climbs associated with ski trails. Cars may be driven to Barton's Mines at the start of the trail and the winter sports enthusiasts may then ride all the way back on skis."
The ease of the trip was a major attraction to these trails, one that very few areas offered back then. Furthermore, The Schenectady Winter Sports Club made North Creek its prime ski destination. A chartered train for club members arrived at the North Creek train station on March 4, 1934 bringing 375 skiers onboard the King Winter Special. Round trip fare from Schenectady was $1.50.
With the success of the chartered trains, the club made arrangements to begin overnight travel from Grand Central Station for the general public. The ride provided skiers with everything they needed. Saks Fifth Avenue Sporting Goods Department provided warm clothing and après ski attire. Female clothing models were on board showcasing the latest fashions for winter recreation. Ski equipment rentals were available on the train, including waxing services and an instructor ready to answer questions for the novice skier.
(Continued on Next Page)
Prev Next
Vote on this Story by clicking on the Icon