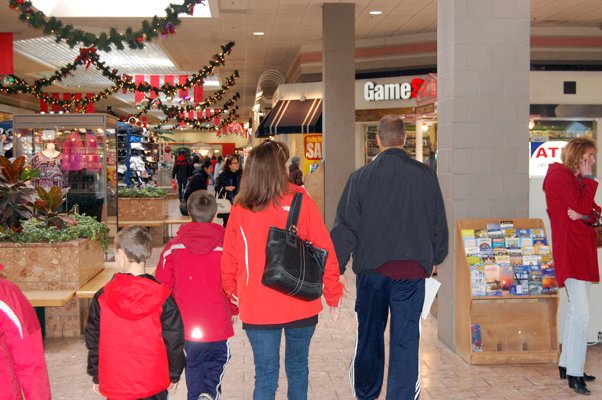 That same analysis found that between 2008 and 2011, the number of those living on food stamps soared by 50 percent.
Catholic Charities reported that requests for the working poor were up 80 percent and 59 percent for the middle class.
Housing and auto sectors are expected to improve some, but remain below normal levels and, overall, unemployment is not projected to improve much in 2012, with 13.3 million Americas looking for work.
Yet an assessment of shoppers, conducted Dec. 1-14, found that those anticipating more jobs increased to 13.3 percent from 12.4 percent and those predicting fewer jobs declined to 20.1 percent from 23.8 percent.
"I think it was pretty evident that last year was financially tough on everyone," said Megan LaPorte of Plattsburgh. "Everyone is in debt nowadays. It used to not be like that."
Most people the 21-year-old knows struggle to cover rent and their bills. She finds that her friends spend much time worrying about money.
"You have to pay attention to every dime that goes out," LaPorte said. "I don't have any friends who can afford to go out."
She hopes for serious changes in a 2012.
"My only hope is the economy can get back to the point where it is not so difficult to afford the basic necessities."
David Drake believes that will require a change in administration. The Vermontville man would like to see someone new, specifically a republican and conservative, in the White House.
He's had to tighten his belt financially, including less travel and vehicle use.
"I think not enough has been done by the current administration to overcome this downward trend."
People like to blame the previous administration, but Drake believes that, "liberal policies are a very real part of the reason for this economic situation."
Vote on this Story by clicking on the Icon