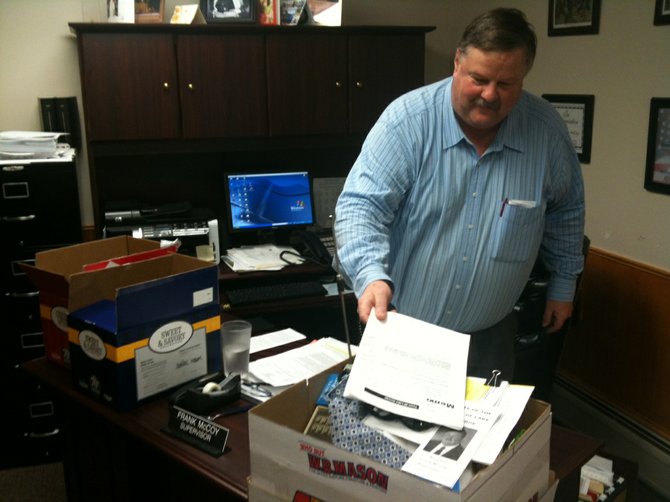 continued — McCoy also said he and the board worked hard to restore financial stability to the town, stockpiling a $700,000 surplus at the end of his tenure, after facing a $300,000 deficit upon taking office two years earlier.
"People didn't vote on the issues in November, they responded to scare tactics," he said. Citizens Group representatives have disputed such claims, saying they weren't out to "get" anyone, they were only advocating transparent and responsive government — which McCoy has said he provided all along.
Losing the fight to save and restore Cavalcade or demolish ended up with McCoy and his board divorcing the West Brook project, selling out their financial stake to Lake George Village.
The action, criticized by his political opponent, may have ended up saving taxpayers as much as $250,000 initially and $70,000 per year, McCoy said.
"Down the road, the project will cost money to maintain," he said. "The park will still be there and it will be very nice, but the town taxpayers won't be on the hook for it."
Other highlights of his tenure, McCoy said, included making the town budget more understandable to the public, properly identifying line items and publishing the financial plan on the Internet.
Other top achievements, he said, were developing plans and lining up funding for the Exit 21 Corridor plans, and taking action to protect the lake by being the first municipality in the area to enact a phosphorus ban.
The other accomplishment, he said, was successfully lobbying to use occupancy tax revenue in fighting infestations of Asian clams, so the spiraling costs of the effort wouldn't be shouldered by local taxpayers.
McCoy also cited his battle to protect the Americade motorcycle rally from the state's ever-increasing rental charges, that local officials considered exorbitant. His and others' efforts ended up with the commitment from Americade — the area's biggest event — to remain in Lake George for at least five more years, and not relocate elsewhere.
Vote on this Story by clicking on the Icon