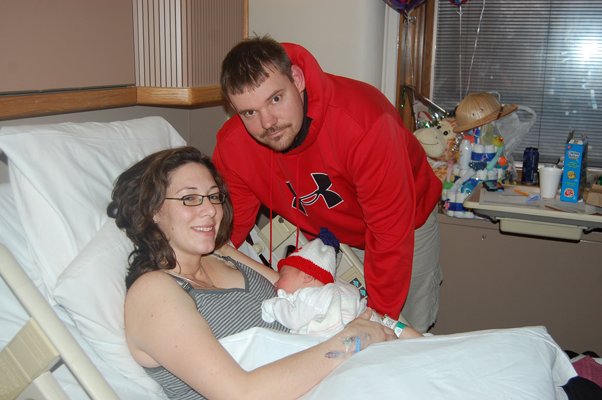 Plattsburgh — Ashtin Jeffrey Blaise surprised his mother, and CVPH Medical Center staff, arriving earlier and quicker than expected.
It made him the first, and as of Sunday evening, only New Year's Day baby in the area, according to reports from Adirondack Medical Center in Saranac Lake and Alice Hyde in Malone.
Doctors predicted Alicia Blaise would give birth Jan. 8.
"He decided he was big enough," said the 27-year-old.
The couple initially thought they were having a girl.
"Everything was different, the complete opposite from the first time with Aiden," Alicia said.
The summer passed quickly, at 20 weeks they found out it was a boy.
"I made them check four times," Alicia said.
Fall and winter sort of crawled by.
By mid to late December, Alicia was ready to give birth.
Alicia, her husband Aaron and their 2-year-old son Aiden had gone to bed Saturday night fairly early.
"I really missed the New Year's," Alicia said.
She had no signs of contractions and when her brother texted to hurry up and have the first baby of the new year, she responded that it was not going to happen.
"I had no signs of labor."
Around 12:30 a.m. her water broke. Her husband, Aaron, woke around the same time, wondering what was going on.
"I thought, 'Guess we gotta get dressed and go to the hospital,'" Aaron said,
They left their home just outside Keeseville and arrived at CVPH around 1:30 a.m. and figured they still had quite a bit of time.
"We got here and I thought, 'I'm not gonna call my parents yet,'" Aaron said.
Alicia knew she wanted an epidural, but was soon screaming in pain, and while the anesthesiologist was headed up the stairs, it was too late.
"Slower would have been nice," Alicia said.
In fact, it was quicker than the medical staff expected. They had checked Alicia and figured they had some time, but the baby came within 15 minutes of that last check.
(Continued on Next Page)
Prev Next
Vote on this Story by clicking on the Icon