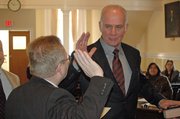 continued — "They have each given their all for the enhancement of Jay," he said.
Douglas also spoke about the challenges of the last year and the year to come.
"Serving as chair in 2011 has been the most challenging time of my life since my father died," Douglas said. "We in the North Country are resilient and we will come through these events stronger and more together than ever."
"It saddens me that some of our decisions have a negative impact on people's lives," Douglas continued. "As we go forward, it is not going to get any easier, and we have some more big decisions with the future of the Horace Nye Nursing Home, the fish hatchery, and the negotiations with CSEA."
Douglas said his goal is to help move the county forward in the next year.
"I will do all in my power to strive to make Essex County better."
Earlier in the meeting, four new supervisors were sworn in as members of the board, including Elizabethtown's Margaret "Maggie" Bartley; Crown Point's Charles Harrington; North Hudson's Ronald Moore; and Schroon's Michael Marnell.
Douglas said committee assignments would be made by the end of the week.
Vote on this Story by clicking on the Icon