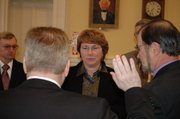 Elizabethtown — In a day that saw four new members take their positions on the Essex County Board of Supervisors, the highlight was the return of one supervisor to the role of chairman.
For the first time since 1985, the board opted to appoint the same chairman to a third term during its Jan. 3 organizational meeting, with Randall "Randy" Douglas remaining in the post and Robert "Roby" Politi continuing on as vice chair.
"Over the past two years, he has led this county with a bi-partisan attitude," Newcomb Supervisor George Canon said in nominating Douglas to the position. "He has allowed every member of this board to make their views known on each topic."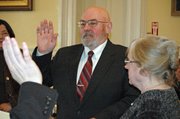 "This board could not make a more worthy selection," Keene Supervisor William "Bill" Ferreby added in seconding the nomination.
Both supervisors also talked about the struggles the county faced in the past year while Douglas had been chair, from working with decreased state aid, a tax cap and natural disaster.
"I know of no other term where the chairman has faced as much difficulty as he has," Canon said.
"Randy has held the position in most difficult times," Ferebee added. "I worked shoulder to shoulder with him during the aftermath of Tropical Storm Irene and witnessed the passion that he brings to everything that he does."
After being sworn in, Douglas thanked the board for their support.
"It is truly an honor to once again be sworn in as the chairman of this board," Douglas said. "I am truly honored to serve with each and every one of you."
Douglas said he felt the county made in-roads with Albany and Washington over the past two years, and said the concerns of the North Country were being looked at because of that. He also thanked his family as well as the employees and members of the town of Jay government.
(Continued on Next Page)
Prev Next
Vote on this Story by clicking on the Icon