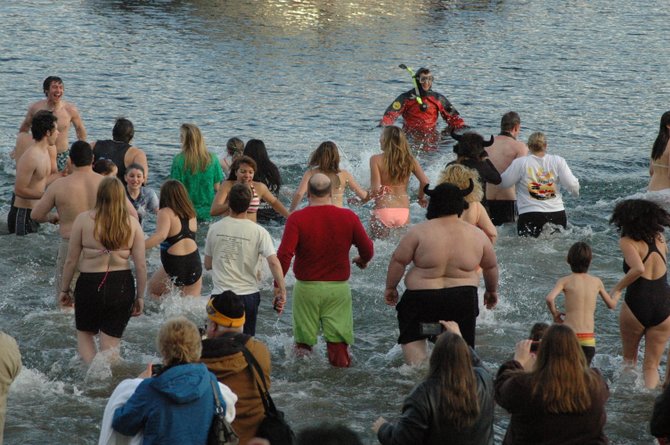 continued — "We were forced into this," he said as his father was fogging up his mother's glasses with his breath as a distraction. "I was comfy on the couch, all set to watch the Rangers hockey game."
The 15-year-old ice hockey fan wasn't the only polar swimmer who was cold and reticent.
Sidney LaPann, a Junior at Bolton Central School, said she has participated in the event for three years, at the urging of her classmate Madlyn Wilson, whose family made the polar plunge an annual tradition.
"It's something I look forward to every year," she said.
"But I dread it," she added with a grin.
Others were clearly enthusiastic about the plunge and its party atmosphere. For hours, the waiting line for registration was about two blocks long.
Near the back of the registration line early afternoon, Herman Slater of Copake (Columbia Co.) NY, walked forward, leaning on his cane.
He was wearing a helmet that looked like a furry turkey ready for the oven, plus swim shorts that sagged under his stomach.
Slater said he'd been attending the New Year's Day polar swim for nine years, and the weather in 2012 was far balmier than prior years.
"Three years ago, my shorts froze immediately to my skin," he said. "I took 'em off, and they stood up by themselves."
His son, Justin Slater, said he likes the tradition of the annual polar swim tradition he and his parents have been following for many years.
"This gets the family together," he said.
Nearby, Hans Janke stood in line, dressed in trunks, a Hawaiian shirt, a leather jacket and a hat that resembled the head of a polar bear.
"This is like being baptized," he said, looking at his friend Chris Gilluley who was wearing an orange shag fedora. "It's a process of cleansing of the past year and starting the new year right."
Vote on this Story by clicking on the Icon