Photo Gallery
Valley News Year in review, Part III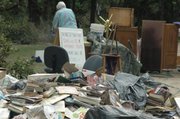 Photos from the stories of the last three months of 2011.
There was a lot that happened in 2011 throughout the region, from flooding and tropical storms to stories of compassion and lending a helping hand.
September
•Sophie Clarke was a standout on the soccer pitch at Willsboro Central School.
Now, Clarke, 22, a medical student, will compete in an entirely different competition, as a cast member on one the shows that launched the reality-based competition genre, "Survivor."
Clarke was announced as one of 18 members for the cast of "Survivor: South Pacific," the 23rd season of the CBS Television show starring Emmy-award winning host Jeff Probst.
"I have seen every single season," Clarke, a 22-year old from Willsboro, said. "I would watch it online and brag to my friends that I could totally do that. I could be on that show."
(We wonder how she does...)
• Days after Tropical Storm Irene showed little to no mercy here, the residents of Au Sable Forks, Jay and Upper Jay started to pick up the pieces.
"We can't live here any more," Sidney "Sid" Smith said about his home in Au Sable Forks. "The water was up to my waist. We've spent the last couple days just cleaning everything out."
Veronica Murphy sat in front of her home, in the Jersey section of Au Sable Forks, and tried to wash off pictures.
That section of town was hit very hard by flooding, as were the hamlet's youth sporting fields and courts.
At the Au Sable Forks Community Center, which houses the town of Jay offices, volunteers collected food and clothing, as well as served food to those who needed it.
•Some players come back from concussions, others from broken limbs and bones, and others from illness and muscle tears.
Very few come back from heart transplant surgery.
And while Elizabethtown-Lewis senior goalkeeper Brock Marvin was rarely tested in the Lions 4-0 win against AuSable Valley Sept. 1, it was his first chance to play varsity soccer since his freshman year, when illness forced him to the sidelines and eventually to an operating table in order to replace the vital organ.
(Continued on Next Page)
Prev Next
Vote on this Story by clicking on the Icon