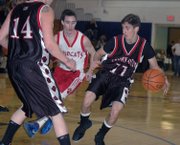 continued — For the Panthers, Jake Courcy scored 11 points to go with six rebounds, with Nathan Tabor adding nine points, Mike Gould scoring seven points to go with 11 rebounds, Joe Foote adding four points and five rebounds, Gabe Macey and Jaice Spring each scoring three points while combining for seven rebounds, and Ryan Worth scoring two.
The Wildcats will face the Willsboro Warriors in the Section VII/Class D championship game, set to tip off at noon on Saturday, March 3.
The Wildcats hold the season edge, 2-1, but the Warriors won the last game between the two squads.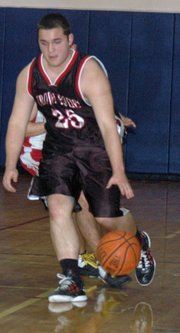 "Our last loss was to Willsboro, and this is the team that the kids wanted to play for the title," Silvernail said. "Their zone caught us last time, but we have played against a lot of zone with the style of offense we use, so we will work on that."
"We will work on breaking their zone and staying focused in practice," Williams said.
"We have to keep our heads, play rough and tough on defense and run a smooth offense," Shaughnessy said. "We wanted this match up."
The Warriors were led by Clayton Cross, who recorded his second 20-plus game of the sectionals with 20 points and three rebounds. Clay Sherman added 10 points, five rebounds and five assists, while Brandon Porter scored eight points and dished out three assists, Nick Arnold scored four, Dakota Sayward three and Brandon Bertrand two to go with four rebounds in injury-limited time.
Vote on this Story by clicking on the Icon