Photo Gallery
Class D boys semifinals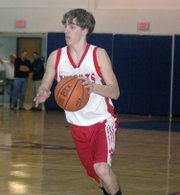 Pictures from the Feb. 29 Section VII/Class D semifinals between the Willsboro Warriors and Elizabethtown-Lewis Lions, along with the Schroon Lake Wildcats and Crown Point Panthers.
Clintonville — Ian Williams had a career night shooting, which aided in securing a triple-double for teammate Jesse Shaughnessy as the Schroon Lake Wildcats scored a 67-39 win over the Crown Point Panthers Feb. 29 to advance to the Section VII/Class D finals, where they will face the Willsboro Warriors.
"We started out slow but we started passing the ball around and got some isolation for Jesse which got me some open shots," Williams, who scored 27 points to go with seven rebounds and a pair of assists, said.
"It has been good to play with this group," Shaughnessy, who scored 18 points to go with 14 rebounds, 11 assists and five steals, said. "We click well on offense, play hard defense and then get out on the break and go."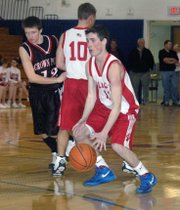 "They are pretty valuable players," Wildcat head coach Lee Silvernail said about his duo. "Jesse does a lot to help the other guys out and penetrates well, and it's great to have the outside shooter in Ian."
The Wildcats opened the second quarter with a 9-0 run and ended it with an 11-0 run, turning a 14-9 lead into a 34-18 halftime tally that the Wildcats never looked back from.
"Intensity on defense led to some transition buckets and Ian opened up their zone with two threes to start the quarter," Silvernail said. "That forced them into man-to-man and we took advantage."
Uriah Harvey and Noah Gath each scored six points, with Harvey grabbing five rebounds and Gath adding a pair of assists. Matt Filler scored four points, while Jeffrey Armstrong had tow points and grabbed seven rebounds and Tanner Stone scored two points with two steals. Robert Rose added two points, with Caleb Maisonville grabbed four rebounds and added an assist in limited time and Matt Savarie had a pair of rebounds.
(Continued on Next Page)
Prev Next
Vote on this Story by clicking on the Icon