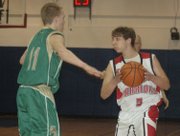 Clintonville — In a first half of runs, the Willsboro Warriors made the key push toward the end of the second quarter to score a 29-20 halftime lead en route to a 47-33 win in the Section VII/Class D semifinals Feb. 29.
The Warriors used an 11-2 run to end the opening half, after starting the game on a 14-2 run. The Lions had rebounded to tie the game at 16-16 and 18-18 before the Warriors push.
"There was a timeout called just before the run and I told them that we needed to get back to basics," Warrior head coach Jim Spring said. "We needed to play good defense."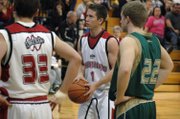 "It was better to get that early lead, because we felt comfortable and were able to respond when they tied the game," Clayton Cross, who continued his strong sectional performance with a 20 points effort, said. "We started on a run, and we knew when they tied it up that we needed to end the half on a big run."
"We were knocking down shots to get a big lead to start, but they were able to answer that run," Clay Sherman, who scored 10 points to go with five rebounds, five assists and three steals, said. "We had to lock in on defense and we were able to make another run."
Brandon Porter added eight points and four rebounds, while Nick Arnold scored four points to go with seven rebounds, Dakota Sayward added three points and six rebounds, Brandon Bertrand scored two points to go with four rebounds in limited action due to a knee injury, and Cody Sayward added five rebounds.
Photo Gallery
Class D boys semifinals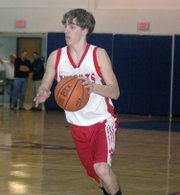 Pictures from the Feb. 29 Section VII/Class D semifinals between the Willsboro Warriors and Elizabethtown-Lewis Lions, along with the Schroon Lake Wildcats and Crown Point Panthers.
Spring said that Cross has picked up his game since the injury to Bertrand, which has limited his time on the floor.
"Clayton has stepped up his game tremendously," Spring said.
(Continued on Next Page)
Prev Next
Vote on this Story by clicking on the Icon