Girls basketball
Moriah advances
Moriah advanced to the Section VII Class C girls basketball tournament championship game with a 40-25 win against Ticonderoga Feb. 23.
Photo Gallery
Moriah v.s. Ticonderoga girls basketball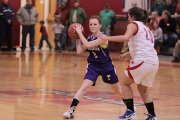 Class C Sectionals Moriah win against Ticonderoga with a final score 40-25
The Vikings grabbed a 13-6 lead and extended their advantage to 29-12 at the intermission.
Hayley Waldron, who was just voted the area's top girl player in a Times of Ti online poll (www.timesofti.com), led Moriah with 19 points and 10 rebounds.
Jasmine Callis added 12 points, six rebounds and three steals for the winners.
Meg Campney topped Ticonderoga with eight points. Andrea Rich added seven points and Kylie Austin had six for Ti, which ended its season with a 4-14 mark.
Moriah will face Seton Catholic in the title tilt at 5:45 p.m. Friday, March 2, at the SUNY-Plattsburgh field house.
Seton advanced to the championship game with a 51-45 win against defending champion Lake Placid.
The Vikings enter the section finale with a 9-8 record. Seton is 6-11 on the season.
This will be the first section championship game for Moriah since playing in the Class D finale in 1998. Moriah's last section title came in 1982.
Panthers eliminated
Crown Point gave third-seeded Indian Lake/Long Lake pulled away late to beat Crown Point, 46-30 in Section VII Class D girls' basketball quarterfinal play Feb. 25.
The Orange, defending Class D champions, held a 32-25 lead in the final quarter before closing the contest with a 14-5 run.
Shannon Farrell scored 12 points for the Orange, who are 16-2 on the season.
Indian Lake/Long Lake played Westport in the semifinals Tuesday.
Alexis Holman led Crown Point with 13 points. Marissa Titus added 11 points.
The Panthers conclude the season with a 10-8 record.
Schroon Lake falls
Schroon Lake lost to Top-seed Elizabethtown-Lewis, 52-27, in quarterfinal round of the Section VII CLass D girls basketball tournament Feb. 25.
The Lions raced to a 13-0 lead and never looked back.
Lily Whalen paced ELCS with 11 points, six rebounds and five steals. Savannah Graves added nine points.
The Lions, who are 17-2 on the season, played Willsboro in the semifinals Tuesday.
Lindsay Reynolds and Kiana Fiore led Schroon Lake with five points each.
The Wildcats finish the campaign with a 4-12 mark.
Vote on this Story by clicking on the Icon