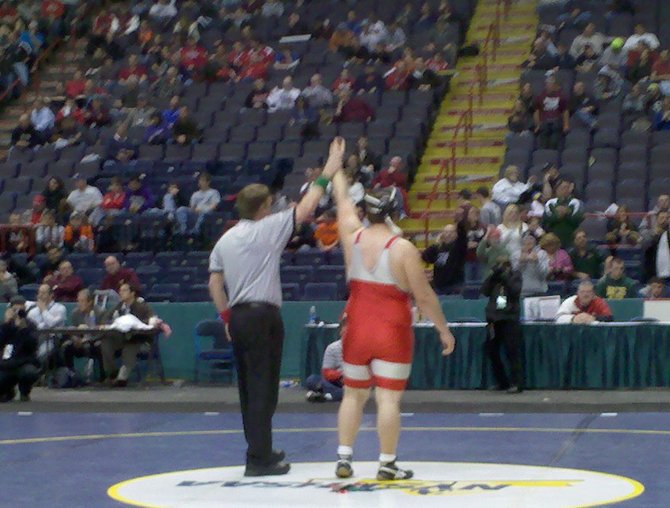 ALBANY — Beekmantown senior wrestler Hayden Head a state champion at 285-lbs.
Head, in his New York State Public High School Athletic Association state championship match against Alex Soutiere of Ravena-Coeymans-Selkirk.
In the match, started the match with a scoreless first period against Soutiere. Head started the second round in top position, and Soutiere earned an escape at the 1:22 mark for a 1-0 lead. Head then scored a takedown with 10 seconds left in the period to take a 2-1 lead.
In the third, Head started in the bottom position, and scored a two-point reverse 15 seconds in for a 4-1 lead. Head then turned Soutiere onto his back at the 1:22 mark and earned the pin with 1:18 remaining.
Head, who was ranked second in the weight class, started his tournament with a pin of Robert Salinas (Carle Place, Section VIII) 43 seconds into the second period. Head opened the match with a takedown and back points for a 4-1 lead heading into the second period. Head started the second period on top, working to turn Salinas and get the pin.
"I'm pumped," Head said immediately following the match. "I expected to come here and win, but I did not expect to do it with four pins."
Head said that he used the first period to his advantage and, while not scoring any points, he was able to tire out Soutiere.
"He was very aggressive," Head said. "I tried to keep him going and tire him out so I could use my conditioning to find holes later in the match."
As Head started to pursue the championship-winning move, he knew he was in a good position.
"As soon as I felt his head tuck underneath, I sat back and pulled down hard. As soon as I heard the refs hand hit the mat, I was pumped."
(Continued on Next Page)
Prev Next
Vote on this Story by clicking on the Icon