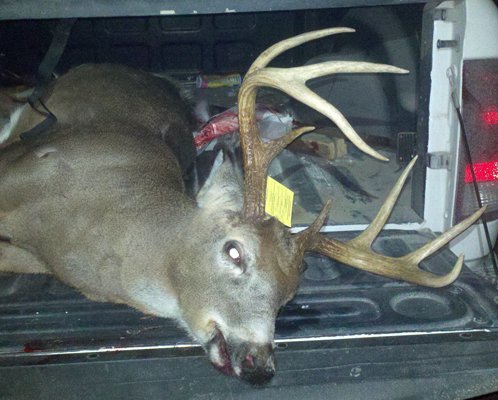 Deer in the Adirondacks normally shed their antlers in late December or early January, Reed said, but some deer may keep them into February and even March.
Dr. Mickey Hellickson, a biologist with the Quality Deer Management Assoc., said that along with testosterone levels, a deer's diet, as well as its age, can also affect when it sheds its antlers.
"A restricted diet has been found to cause bucks to shed their antlers early. It has been suspected that the lack of adequate nutrition somehow affects testosterone output," Hellickson said.
Also, older-aged bucks are thought to shed their antlers earlier than younger bucks, and more dominant bucks tend to cast their antlers sooner than lower-ranked (subordinate) bucks, he said.
"Older-aged, more dominant bucks probably shed their antlers sooner because of the high energy costs incurred in maintaining a higher dominance rank, such as fighting and chasing," Hellickson noted.
Like Reed, Hellickson also noted that there is no clear evidence that weather directly affects antler shedding.
But, he did say it is likely that severe winters may cause bucks to shed their antlers earlier, because of the nutritional stress this causes.
Under this hypothesis, a mild winter when food sources are plentiful, like this year, could slow the shedding of antlers, because deer are well nourished and bucks had it relatively easy recouperating from the rut.
Aside from when a deer looses its antlers, one thing about this winter is abundantly clear: The deer herd should benefit from the mild temperatures.
"I expect to see the deer take increase dramatically next year," Reed said. "I think we'll see a lot of yearling bucks running around."
John Gereau is managing editor of Denton Publications and an avid outdoorsman. He may be reached at johng@denpubs.com
Vote on this Story by clicking on the Icon