continued — In the fourth quarter, the Lions connected on 16 of 20 free throws, with Lily Whalen connecting on 11 of 14.
"We shoot free throws all of the time in practice," Whalen, who finished with 18 points and five rebounds, said. "Now that we are moving ahead to sectionals, we need to work hard in practice and keep the defensive intensity."
Kearsten Ashline added nine points at 11 rebounds for the Lions, while Jenn McGinn scored four. Kylee Cassavaugh scored two points while earning three assists and two steals.
Along with her defense, Jasmine Barnes added eight points to go with four rebounds and three steals. Her third quarter partner, Morris, had a rebound and assist, while Angle Barnes scored one point off an offensive rebound.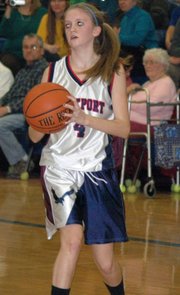 For Westport, McKinley ended with 26 points in the game to go with five steals. Allison Sherman scored 14 points to go with seven rebounds and four assists, while Mallory Sudduth had sevens in points and rebounds (five on the offensive glass) along with three steals.
Karin Dorsey added one point and four rebounds, Brendee Russell had a pair of both rebounds and assists, Delany Sears added three assists, Karlee McGee had two steals and Emily French added a rebound in the loss.
Vote on this Story by clicking on the Icon