Westport — The Mountain and Valley Athletic Conference saved its best for last, as the Elizabethtown-Lewis Lady Lions and Westport Lady Eagles matched up Feb. 17.
Reader poll
Meghan Strong - AuSable Valley 1%
Shonna Brooks - Elizabethtown-Lewis 20%
Tucker Geiger - Keene 0%
Danielle Balestrini - Lake Placid 0%
Katie Stuart - Tupper Lake 41%
Willa McKinley - Westport 38%
Hannah Bruno - Willsboro 1%
10141 total votes.
In a game that had everything, the Lions used stifling second half defense and a 27-for-38 night from the charity stripe to record a 59-48 win and capture the Division I title as well as clinch the top seed in the Section VII/Class D girls playoffs.
"There are three state-ranked teams in this section, and getting the top seed means you would not have to beat two of them," ELCS head coach Don Ratliff said. "They did a phenomenal job tonight."
"It's nice to accomplish this goal, but we know that we have to continue on," Shonna Brooks, who scored 17 points (11 in the first half) and 10 rebounds, said.
While the game belonged to the Lions, the first half belonged to region-leading scorer Willa McKinley. On senior night, the Westport standout connected on five three-pointers and went for 25 of her team's 27 points at halftime, giving the Eagles a 27-22 edge.
"She was on. I don't know how she does it," Brooks said.
"Our goal was to slow down their top two scorers, but Willa was just hitting everything," Ratliff said. "I thought we did a good job defensively, but she still went for 25 points in the opening half."
Out of the break, the Lions tried a new tactic, running two defenders at McKinley in a triangle-and-two type zone. The result was a 16-6 ELCS run that gave the Lions a 38-33 lead heading into the final quarter.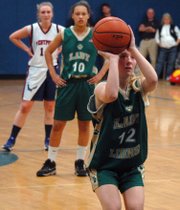 "Jasmine Barnes and Emily Morris hardly played in the first half, but we put them both in to guard Willa in the third," Ratliff said. "They did a great job."
"She can't beat two defenders the way they had her guarded," Westport coach Hokey McKinley said. "We didn't respond well to their defensive change, and we missed some open shots. We need to be more balanced."
(Continued on Next Page)
Prev Next
Vote on this Story by clicking on the Icon