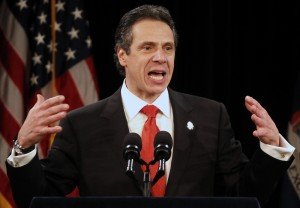 continued — Under the plan, school districts will also have the option of using state tests to measure up to 40 percent of a teacher's rating.
Broadwell said that he was still looking to learn more about the process.
"We are going to be looking for the remainder of the details," Broadwell said. "We are still under negotiation with the teachers to implement this, and once we get the details, then we will go back with the Teachers Association to iron out those details."
The agreement follows through on the state's commitment to put in place a teacher evaluation system, a condition of the $700 million granted through the federal "Race to the Top" program.
"This agreement is exactly what is needed to transform our state's public education system, and I am pleased that by working together and putting the needs of students ahead of politics we were able to reach this agreement," Cuomo said.
"The goal is and always has been to help students and to give them every opportunity to succeed in college and careers," King said.

"The settlement also reinforces how important it is for teachers to have a voice in establishing standards of professional effectiveness and in developing evaluations that meet the needs of local communities," Iannuzzi said.
Vote on this Story by clicking on the Icon