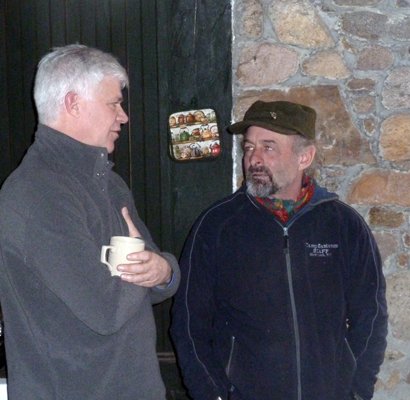 The group included a capable combination of journalists and a few, official DEC spokesmen from Central Office, as well as current DEC Commissioner Joe Martens, DEC Region 5 Director Robert Stegemann, AARCH Executive Director Steve Englehart, Executive Director of The Adirondack Nature Conservancy, Mike Carr and the local NYSDEC Forest Ranger, Dell Jefferies. The only 'stuffed suits' in the crowd were the down vests that some folks wore.
Following a short introduction in the Gatehouse, the group promptly geared up and set off. Once on the trail, the formality of the 'Official Press Event' was rapidly reduced to a pack of pals enjoying a wilderness ski. The conditions were ideal with a packed powder base, covered with a light dusting of fresh snow.
With a handful of dogs, and at least one youngster in tow, the group made short work of the journey, amid a lot of laughter, joking and lighthearted banter. For unexplained reasons, this appears to be typical behavior during a trip to Newcomb. It seems to have that effect on folks, I guess it must be something in the air.
Camp Santanoni, which is a designated National Historic Landmark and is listed on the National Register of Historic Places, was initially purchased by the Adirondack Nature Conservancy in 1972, and later transferred to the state, along with nearly 12,900 acres of forested lands. It has been classified as the Camp Santanoni Historic Area since 2000, and remains one of the finest examples of Adirondack Great Camp architecture which remains open to the public.
The camp complex, which encompasses over 45 buildings, has been preserved through a unique partnership of not-for-profit, advocacy groups, state agencies and local officials, which include The Adirondack Nature Conservancy, the NYSDEC, Adirondack Architectural Heritage (AARCH) and the Town of Newcomb. The effort was achieved through the foresight of a dedicated group of enthusiastic preservationists, aided by a politically savvy, Town Supervisor and willing State Officials.

Joe Hackett is a guide and sportsman residing in Ray Brook. Contact him at brookside18@adelphia.net.
Vote on this Story by clicking on the Icon