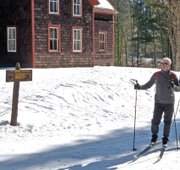 As the winter season begins to show signs of winding down, visions of an early ice out have begun to dance through my head like sugar-plums on Christmas Eve. Although the 'winter that wasn't' has yet to produce the deep, lush snowfall that skiers dream of; the season has certainly provided some interesting pockets of opportunity.
A recent ski trip through the Route of the Seven Carries, from Paul Smiths to Lake Clear offered a gentle blend of woodland romps and flat ice flings, filled with an interesting assortment of animal tracks which included otter, deer, bobcat and even moose. The cover on the lake ice was ideal for ski skating, and there was plenty of snow in the woods. In the course of a full day's travel over seven carries and across eight water bodies, I never encountered another traveler.
A few days later, I encountered crowds and challenging ski conditions at the Mt. Van Hovenberg Nordic Ski Center in Lake Placid. Featuring meager snow cover, and an icy, hard packed base, the former Olympic ski trails were in rough shape. I found far less traffic, and much better trail conditions the following day at the Paul Smiths VIC, even though there was a race in progress.
However, the best ski conditions I encountered during a full week of adventuring were found in the village of Newcomb, where I enjoyed a gentle ski over generous snow while taking an interesting journey into Great Camp Santanoni. My visit to the Land of the South-Slope'rs in Newcomb coincided with an official, NYSDEC press event, which was available by invitation only. Since my editor couldn't find anyone else to cover the event, I was invited. And I'm sure glad I was!
The purpose of the Press Conference was to highlight the unique, historic resource that is Great Camp Santanoni. However, unlike traditional press conferences where the principals are guarded by a battalion of official spokesmen, and often remain hidden behind a podium, the event appeared to be a day away from the office for a group of old friends who enjoyed remarkable ski conditions in a remarkably, wild setting.
Joe Hackett is a guide and sportsman residing in Ray Brook. Contact him at brookside18@adelphia.net.
(Continued on Next Page)
Prev Next
Vote on this Story by clicking on the Icon