continued — Semifinals: Feb. 25, at Willsboro
Finals: Friday, March 2, 1:45 p.m., PSUC Fieldhouse
Favorite: Ti (8-8), Moriah (6-12)
Contender: Seton Catholic (6-12)
Northern Adirondack and Lake Placid will have to do a lot to overcome seasons that saw them go 1-16 and 2-16, respectively. Both are led by strong offensive players in Colby Sayah (251 points) for the Bobcats and Logan Stephenson (221) for Lake Placid. The Knights have the best chance to rain on a Vikings-Sentinels final, as they will look to Adam Tedford (218) and Carson Hynes (211) to continue to lead with the help of Cody Quantock and Carlos Alvarez.
Class D
Quarterfinals: Feb. 24, at higher seed
Semifinals: Feb. 29, at AuSable Valley
Finals: March 3, noon, PSUC Fieldhouse
Favorite: Schroon Lake (15-2)
Contenders: Willsboro (14-4), ELCS (14-4)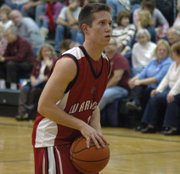 The Warriors won the last battle on their senior night with the Wildcats, but will have to continue to get big nights from Clay Sherman (241 points) and Brandon Bertrand (133), especially with a potential semifinal meeting against the Lions and the second ranked scorer in the region in Hunter Mowery (408).
While the Wildcats open with a bye, the Warriors will play seventh-seed Johnsburg, who is led by Taylor Ordway. The Lions will face sixth-seeded Minerva/Newcomb, while Brandon Laurin (168 points) and Cody Toohill (137) will try to lead Chazy into the semifinals by beating fifth seed Crown Point.
Girls
Class B
Opening round: Feb. 21, at higher seed
Semifinals: Feb. 24, TBA
Finals: March 2, 7:30 p.m., PSUC Fieldhouse
Favorite: Saranac
The Lady Chiefs have been the cream of the crop in ladies basketball all season, relying on smothering defense and balanced scoring to earn an 18-0 mark heading into the playoffs. Stephanie Linder has scored 252 points this season, while Alisha Ducatte has added 208 for the top seed, who have also had big contributions from Victoria Phaneuf, Katie Gates and Morgan Maye.
Vote on this Story by clicking on the Icon