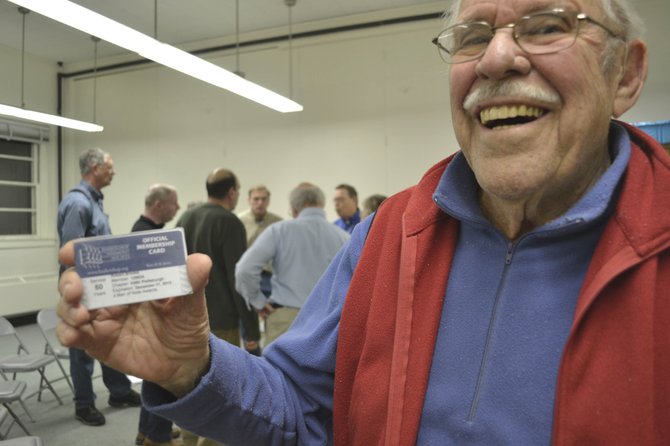 continued — And, he said, being in the chorus keeps him young.
"Singing's healthy. Many times I'll go to rehearsal and I'll just be dead tired. But after 45 minutes of singing the energy is just pumped up," said Hurd.
All the oxygen pushed in and out of his lungs is invigorating, he said. Many of the chorus men are able to participate as long as they're able to walk.
Those who come to rehearsal don't have to join, unless they want to go out to perform at venues with the chorus, like singing for the Irishman of the Year ceremony for the Chamber of Commerce or the county fair.
The chorus is a source for quartets, though they only have one quartet right now, said Maglienti.
Even one is a generous estimate, said Hurd. The lead for their quartet bought a home in Arizona, though he comes back once in awhile. When he does, there's a functioning quartet.
In the '60s and '70s whentheir enrollment was at its largest, they drew on the population from the Air Force. The Nashville-based parent group of the Cumberland Bay Chorus, The Barbershop Harmony Society, hosts international competitions. At their peak enrollment, the local chapter placed high in the Eastern Seabord district.
All men are welcome to come by and sing for pleasure or to see if they're interested in joining up. For rehearsals from Feb. 28 to March 20 they'll have guest instruction. Find more info at CumberlandBay.org.
Vote on this Story by clicking on the Icon