continued — Local No. 773 of the United Association of Plumbers & Steamfitters is seeking this U.S. Environmental Protection Agency brownfields grant that would bankroll training in hazardous materials cleanup procedures. The union represents workers, many of them in the construction or technical trades, from Saratoga County north to the Canadian border.
Schumer said the EPA grant would also train workers in lead paint removal and asbestos abatement.
Scott Martel, the union's business manager, said such training would be hosted at their $5 million 18,000-square-feet training center, which is expected to be constructed and in use by the end of this year.
The center — the first facility constructed at Tech Meadows — is expected to include a "clean room" environment intended to arm workers with specialized skills necessary for jobs in the semiconductor, solar power and medical device industries, Glens Falls Economic Development Director Ed Bartholomew said.
"This center will train new workers and retrain those already employed, giving them the opportunity for good jobs," he said.
Plans for the 40-acre park call for it to host eight buildings totaling well over 400,000 square feet. Situated in Queensbury but owned by Glens Falls, the park is located off the intersection of Luzerne and Veterans roads, just northeast of Northway Exit 18.
In welcoming Schumer to Tech Meadows, Glens Falls Mayor Jack Diamond noted that the two building sites nearest Luzerne Road are "shovel ready" — complete with water and sewer lines paid with a $765,336 grant Schumer helped obtain in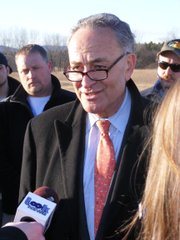 Those sewer and water lines are expected to be extended to the other six lots this year, Diamond said, adding that he expects the training center's presence to prompt other enterprises to locate in Tech Meadows.
"This center will spark a snowball effect and fill up the park," he predicted.
Vote on this Story by clicking on the Icon