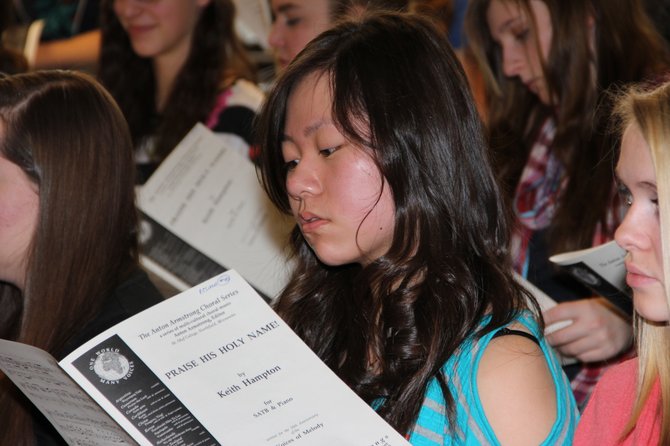 continued — Macey Sprague, Soyoung Park and Felicia Kurth of Westport; and
Sherika Pulisfer of Willsboro.
The mixed chorus was directed by Helen Demong and accompanied by Drew Benware. It included:
Ally Wallace, Anna Izzo, Emily McConney, Gorgianna Rickard, Kendra Manning, Christina Stanton, Genevieve Benware, Alastaire Masterson, Alex Jelinek, Lucky Cerruti, Colin Briggs, Daryl Brier, Jeremy Florence and Robert Gregory of Lake Placid;
Caroline Dodd, Elena Beideck, Eydon Thomashow, Jessica Kemp, Katie Romano, Keiley Branch, Mariama Tsiklauri, Robyn Williamson, Summer Schneider, Leah Kleist, Allie Charey, Autumn Buerkett, Erin Ryan, Jazzmyn Tuthill, Jennifer McGuoirk, Kasey Cunningham, Nina Scheuer, Olivia Hunt, Alex Rodriguez, Dylan VanCott, Griffeon Chuba, Haakon Pederson, Kevin Morgan, Sam Stringer, Teddy Yanchitis, Bachana Tsiklauri, Hudson Gray, Jamaal Tuthill, Max Paul Peter Curtis, Sean Orman and Skyler Buckley of Saranac Lake;
Jazmin Picaino and Meg Smith of Long Lake;
Katie Whittemore, Zoe Reusser, Erica Fields, Andy Mitchell, Terry Thomas, Lou Scagline and Patrick Phillips of Elizabethtown-Lewis;
Theresa Bower, Allison Sexton, Emily Sexton, Brandon Bedore, Ian Gillis, Lance Vaillancourt, Roger Delair and Nicholas Dreslinski of Tupper Lake;
Alaina Bevilacqua, Alyssa Rodriguez, Anita Zhang, Rebecca Barber, Derek Bevins, Adam Losher, Christopher Burns, and Nate Lenhart of Ticonderoga;
Alexandra Dumas, Sadie Holbrook, Hannah McCabe, Colton Venner and Gabe Warner of Keene;
Evan Viens of Westport; and
Marshall Steeves and Austin Ferris of Willsboro.
The concert band was conducted by Kerry Mero. It included:
Kaytlin Gochenaur, Julia Murray, Remy Orticele, Sami Martin, Cameron Lieb, Emma Miller, Cassidy Rose, Allie Chary, Dominique Santiago, Blake Gregory, Chaz Morgan, Josh LaDue, Ethan Barge, CJ Williams and Cameron Czadzeck of Saranac Lake;
Katherine Towne, Stephen Bartlett, Skyler Gilbert, Anthony DuShane, Martin Glazer, Anthony Costello and Marcus Moser of Ticonderoga;
Olivia Jacques, Torey Patenaude, Katie Woltner and Cassandra Day of Keene;
Kelly Dolen, Ashley Dupius, Emily Sexton, Bryan Geiger, Nicholas Bourbeau, Lauren Bouck and Russell Tarbox of Tupper Lake;
Vote on this Story by clicking on the Icon