Ellenburg — It's been awhile since the Gibson Brothers filled the room with sound at the town hall, but new Town Supervisor Dave Leonard hopes the upstairs theater will soon host lots of acts like those.
It's been 10 years since the "and Theater" part of the town hall sign advertised an active performance venue. It was closed in 2002 after the fire escape leading from the second-story stage was deemed unsafe.
"Which is a shame really, because it's such a historic and beautiful theater," said Leonard.
The same tin ceilings and wrought-iron seats are in place as when the building was erected.
"It's a piece right out of Americana," said Kevin Drown, the head of maintenance for the town. He and Leonard have worked on the town hall first floor interior for the past month, freshening up the paint and installing wainscoting.
After the town hall was expanded with a climate-controlled archives room last year with some help from Noble Power, the fire escape to the theater was replaced. Leonard said to use the theater as a public venue, it has to be updated to meet requirements for disabled person access. The side entrance to the building is already handicap-accessible, as is the bathroom downstairs.
The current town hall has stood since 1924, when it was used as a movie theater. Leonard said the Hobbs family of Ellenburg got into the movie projection business early, and a punched-tin-wrapped projection room is still a part of the ambience.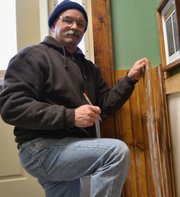 The theater fell into disrepair, but in the '90s was renovated by a town council member and longtime town clerk Thelma Labombard. They bused Plattsburgh kids who owed community service hours up to the town hall to make repairs and paint the room and its stairs purple and sky blue.
Leonard would like to adjust the paint scheme a little. He's been a painting contractor for 25 years, and has done many historic structure projects. He won't rely on only his expertise, though. His daughter has a degree with interior design knowledge, and she'll help identify period colors for the new paint job.
(Continued on Next Page)
Prev Next
Vote on this Story by clicking on the Icon