Elizabethtown — Nine students from Elizabethtown-Lewis Central School attended the annual Harvard Model United Nations and, for the second straight year, one returned with an Outstanding Delegate Award.
Brody Hooper, a junior at ELCS who represented the non-governmental organization Direct Relief International, was named as one of the top delegates at the conference.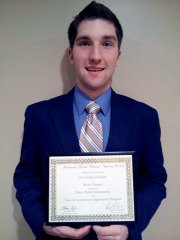 "It's pretty cool to be noticed at this conference that has over 3,000 students from all over the world attending," Hooper, who attended his second conference this year, said.
Hooper's award followed on the success of ELCS then-senior Zach Denton, who was also named an Outstanding Delegate as a member of the same organization last year.
The Model U.N. was held at the Ivy League University from Jan. 25 through Jan. 29, with the other eight members of the ELCS contingent representing the country of India — a big honor according to Model U.N. co-advisors Pete Castine and Catherine McCormick.
"Getting a country like India was a testament to out participation there in the past," Castine said.
"They give the bigger, more involved countries like India to those schools that they know will be solid, good participants in the event," McCormick said.
Patrick Phillips was the lead delegate for ELCS in his third year as a member of the model U.N., while junior Louis Scaglione and sophomores Zoe Reusser and Corinne White were in their second year.
"In a way, it made our job easier having a country like India that is affected more because of its size," Scaglione said. "You have more sway in the debates and in committees. This year, one of the main focuses was overpopulation, and that is a specific problem for India."
"I felt that, since I had done it before, I was a lot more active and it was a lot more fun this year," Reusser said.
(Continued on Next Page)
Prev Next
Vote on this Story by clicking on the Icon