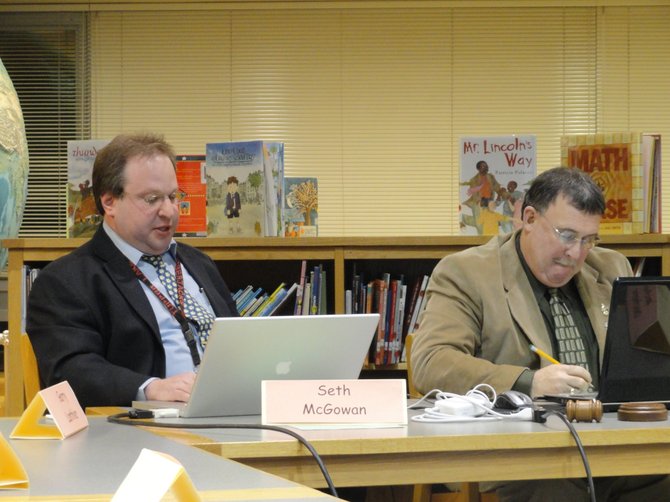 Tupper Lake — Tensions stemming from a confluence of economic factors and political decisions that School Board Vice President Daniel Mansfield termed "the most frustrating thing I've ever experienced" were on display at a Feb. 5 school board meeting.
Tupper teachers expressed a number of concerns at the meetings, including widespread dissatisfaction with their increased administrative workload since Superintendent Seth McGowan became the principal of the high school last year.
Speaking on behalf of his organization, Tupper Lake United Teachers Association Vice President Ted Merrihew stated, "We no longer follow a traditional school model.
"A top-down structure of a superintendent, principals, departmental leaders, and faculty members promotes a chain of command, resulting in greater trust and shared decision making," Merrihew added. "As budget time draws near, we are concerned that the district is choosing to take more teacher resources out of the classrooms to handle administrative responsibilities."
Merrihew also said that there has been an increase in teachers teaching outside of their certification areas.
"Students are being robbed of the expert teaching they deserve," the union representative said. "In structure, in division of responsibilities, and in reduced program offerings such as library, music and enrichment, we have many disconnections and are struggling to feel confident we are delivering the best education possible for our students."
"Please be aware there's a squeeze going on, because the state flat took away money," Mansfield said. "Three years ago we were asked to cut our budget by like $1.5 million, and it's continued since then. We've tried to find ways to allow teachers to stay and we've tried not to increase your tax levy. We the community of Tupper Lake are being squeezed, and nobody on this board is doing anything but their best to make sure that we're being fair. It's not going to be perfect.
(Continued on Next Page)
Prev Next
Vote on this Story by clicking on the Icon