Keeseville — The Olympics came to students at Keeseville elementary school to award them medals of honor for their great work in honoring the Positive Behavior Interventions and Support initiatives on Feb. 10.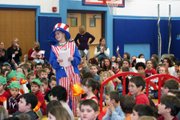 "As a huge thank you we're doing this day because of the great decisions you've made," Keeseville Elementary School Principal, Kevin Hulbert said to the students at the assembly.
Hulbert said he has been holding PBIS celebrations twice a year for the past five years to celebrate students making good life decisions.
The PBIS initiatives goal is to create a social-culture to encourage positive behaviors and interactions, while discouraging problem behaviors. Hulbert said by implementing the PBIS system at Keeseville students have gotten the most out of their time at school. As a result, he said the number of office referrals at the school have gone down 27 percent since this time last year.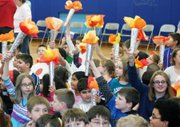 During the day, instead of hustling and bustling off to math or science classes, students were treated with hallway challenges such as scooter racing, scooter hockey, and group races where two students balanced a balloon between each other and raced another pair of students. In art class students made torches out of bright colored papers and aluminum foil.
In the afternoon, students got to enjoy an assembly where sixth grade student Dru Gravelle, as the official Patriot of the assembly handed out awards to students for good actions.
At the assembly, the students participated in games such as "In it to Win it," a tossing game and were also rewarded with a chance to "splash their principal" a sort of dunking booth that poured cooked spaghetti over Hulbert.

At the end of the assembly, Hulbert told the students the program doesn't end once the assembly is over, he encouraged students to work hard to stay respectful of one another.
(Continued on Next Page)
Prev Next
Vote on this Story by clicking on the Icon