continued — At 106, Kyler Agoney pinned Rusty Pombrio of NAC with just over one minute remaining in the match, while Dylan Baker of AuSable Valley also scored a win by fall to finish in third place.
Max Marte scored a pin 1:22 into his championship match against Beekmantown's Konnor German at 113, with Richard Armstrong of Saranac finishing third, also by fall.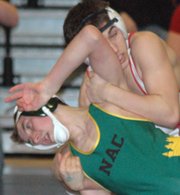 Codie Gillette of Saranac broke the Indian streak, scoring a 3-1 decision over Scott Kellett of NAC to earn the 120 title. Ethan Bacon finished third from Beekmantown.
The Indians quickly made their way back to the top of the podium, as Jordan Bushey claimed a 6-0 decision against Saranac's trevor Goddeau at 126. John Graziane of Beekmantown was third.
Former state champion Jacob Goddeau punched his return ticket to Albany with a third round pin of NAC's Kaleb Sample at 132, with Tyler Myers of Beekmantown finishing third.
Nick Forget scored an opening round pin against Matt Carter of NAC for the title at 138, while Dylan Spellman took third.
Following the Carpenter upset at 145, Jackson Sunderland scored the middle win in a Bobcat three-match streak with a 6-4 decision against Joe Perry of Saranac. Beekmantown's Zackery Myers finished in third.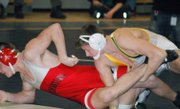 Justin Kellett earned the third win for the Bobcats with a third round pin against Dylan Peryea of Beekmantown at 160, while Caleb Feazelle finished in third.
Troy Seymour put Peru back atop the podium with a second round pin at 170 against Brandon Defayette of Beekmantown, with James Black of Saranac finishing in third.
After scoring a 2-0 decision against top seed Garrett Gero of Northern Adirondack, AuSable Valley's Matt LaMere was unable to keep the momentum in the finals, dropping an 11-0 major decision to Saranac's Nate Wood. Gage Bourdeau of Beekmantown scored an 8-2 decision against Gero to finish in third.
Vote on this Story by clicking on the Icon