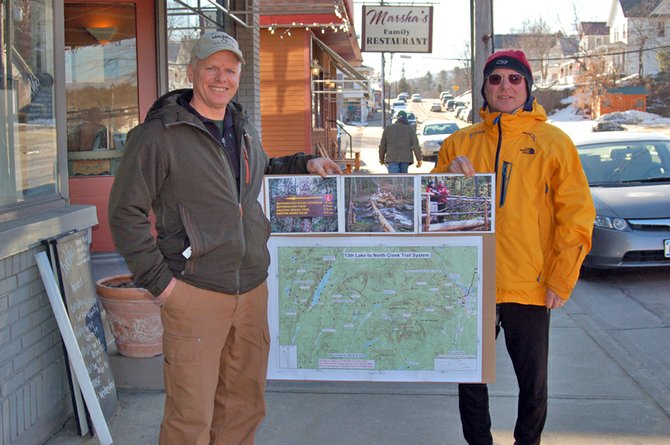 NORTH CREEK — Now that Steven Ovitt is retired from the ranks of the state Department of Environmental Conservation (DEC) forest rangers, he is busier than ever with his new business venture — Wilderness Property Management — and with promoting the Thirteenth Lake to North Creek Trail System.
Ovitt, of Wevertown, and another member of the Siamese Ponds Trail Improvement Society — Rick Morse, of The Glen — gave a presentation to the North Creek Business Alliance Feb. 9, showing them a map and explaining the recreational benefits of the trail system that Ovitt developed as a forest ranger for this region.
"This is something North Creek has and should be promoted," Morse said. "You can start in North Creek at the Ski Bowl, and you can walk fantastic trails in all directions. You can take a beautiful trail up along Roaring Brook by the reservoir to the top of Gore Mountain ... You can go to Garnet Hill Cross Country Ski Center. You can go to King's Flow in Indian Lake ... It's a huge trail system."
A large map of the trail system was placed at the Johnsburg Town Hall after the Feb. 9 meeting. During the meeting, Morse and Ovitt tried to answer the question, "What does this mean for business owners in North Creek?"
"Why doesn't North Creek have maps like this to hand out at the train station?" Morse said. "It's a fantastic thing for people to be able to do here in the summer or during the winter."
While a forest ranger, Ovitt started developing a plan for the trails in the 1990s.
"We went through the unit management planning process," Ovitt said. "It took 10 years. I spent 10 years going to meetings and developing it, and then in 2004 we started to build it."
As planning progressed, the challenge was to make the trail system family-friendly and something that would attract users. They wanted it to be a destination.
(Continued on Next Page)
Prev Next
Vote on this Story by clicking on the Icon