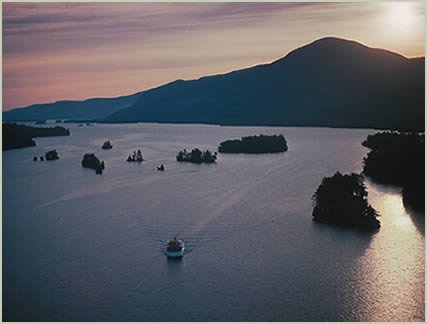 LAKE GEORGE — Local planning and zoning reviews of developments aren't rigorous enough to properly protect the water quality of Lake George, two local citizens warned the town board this week.
At a town meeting held Feb. 13, Chris Navitsky of the Lake George Waterkeeper and Diamond Point resident Melissa Vito both asked the Lake George Town Board to tighten up the municipality's development regulatory process.
Their pleas were aired during the first public comment period held by the new Lake George Town Board since they've required citizens to pre-register in order to speak at meetings.
Vito warned that algae blooms were increasingly apparent off the western shores of the lake, and that if that fertilizer pollution is left unchecked the lake might become too fouled for swimming.
She said that during her decades of living near the lake, she's seen the water quality decline substantially.
"We are now seeing the clear signs that this lake is headed for ruin," Vito said.
She said that her repeated complaints to town officials about lakewater quality haven't evoked response, with officials merely blaming old septic systems or unavoidable highway runoff.
"There has to be better oversight of what the boards are doing and ways they could improve the planning process," she said, calling for town board to require the planning officials to hold pre-design sessions, tighten up the variance process and listen to Navitsky's advice.
Following Vito's plea, Navitsky delivered his presentation, noting that several recent subdivision applications before the town planning board proposed development density at maximum levels allowed, but exceeding reasonable levels.
"Unfortunately, it has been a continued practice of the town planning board to continually allow the maximum number of units for property, based on zoning without consideration of potential negative impacts to the environment or community," he said, noting that the density proposed often exceeded the capacity of the land to accommodate the development.
(Continued on Next Page)
Prev Next
Vote on this Story by clicking on the Icon