continued — Guay said the team had met expectations.
"Every year, you want to get to the Frozen Four and give yourself a chance by playing in the last game of the season."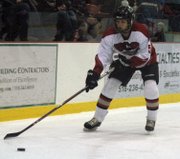 The Eagles got to the championship game with a 4-1 win over Alexandria Bay the night before, as Sarah LoTemplio scored twice in the second period and Jess Huber added a goal as they turned a 1-0 deficit into a 3-1 lead.
Lexi Guay added an insurance goal in the final minute of play. Her goals in the Frozen Four were the first of the season for the junior forward.
Christina Emery made 12 saves in the win and had a total of 32 saves for the two days.
Vote on this Story by clicking on the Icon