Plattsburgh — The Beekmantown girls hockey team was in a familiar spot Feb. 11, playing for an Upstate New York championship.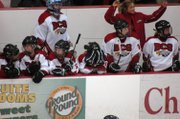 The result, however, was also a familiar one.
Playing in front of a home crowd at the Stafford Ice Arena in Plattsburgh, the Lady Eagles suffered a 2-1 loss to the Potsdam Lady Sandstoners in the title game, their fourth consecutive loss in the championship match.
"This was the fourth time around for us, and the girls really came out and played hard," head coach Ray Guay said. "They left their hearts out there on the ice and they did what we thought was their best job in getting to this point in the season and to play the way that they did."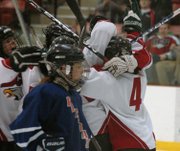 Lexi Guay tied the game at 1-1 with less than a minute left in the second period, only to watch as the 'Stoners scored on a power play midway through the third.
In the final minute, Potsdam goalie Abby Tardelli appeared to be out of position on a rebound in front of the net, but swung her right leg out just in time to keep what would have been the game-tying goal out of the net.
"She has been haunting us for years," Guay said of Tardelli.
Guay also took a moment to talk about the commitment and dedication of the seven seniors on his roster, which included goalie Christina Emery, Jess Huber, Caitlyn LaPier, Amanda Kempanien, Bailey Waterbury, Sarah LoTemplio and Kirsten Doran.
"They have come through the program from the get-go, and I am sure that this is tough for them not to get the win," he said. "But this will be things that they will never forget and they have been able to do great things and make friends that they will have for life. They were doing what it takes to get it done."
(Continued on Next Page)
Prev Next
Vote on this Story by clicking on the Icon